Here is an example of a modern type of streetcar: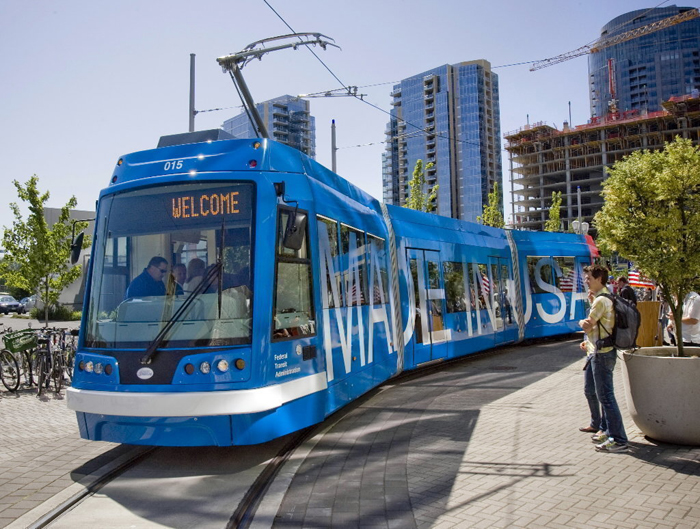 In its December 23, 2015 editorial, the Baltimore Sun stated:



"...there is an opportunity here for civil rights leaders, city lawmakers and Mr. Hogan to sit down and come up with a plan to better connect Baltimore's east-west neighborhoods to jobs."


WHAT IF, among other things, we invested in a MODERN STREETCAR LINE on NORTH AVENUE? North Avenue has been called the central east-west spine of this city! This could be good for its neighborhood residents who depend on public transportation, and also good for existing and new businesses. The new streetcar line could look like this: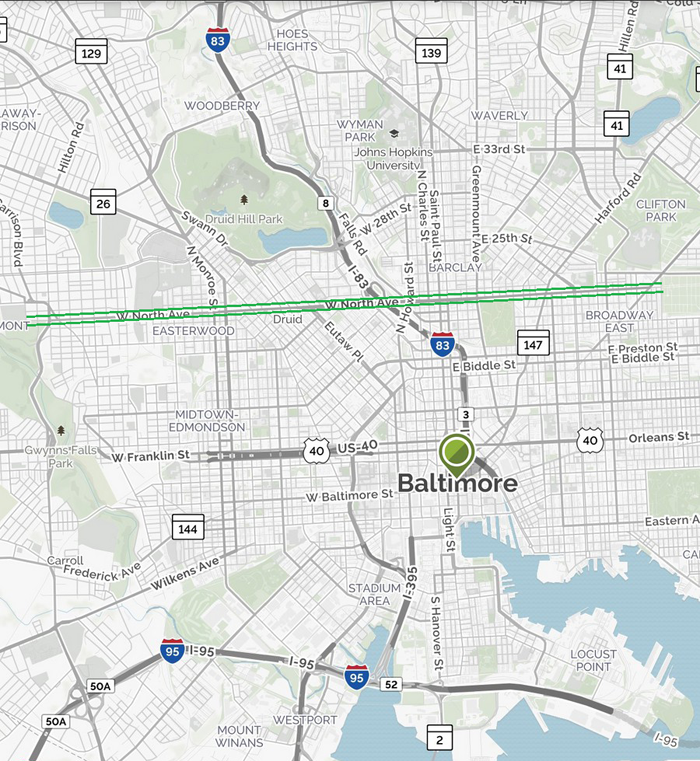 Now, in the second decade of the 21st Century, why not build a modern streetcar line from one end to the other of NORTH AVENUE? This major east-west avenue in Baltimore is either intersected by or crossed by 89 other streets, at least twenty of which are major streets! North Avenue passes through four City Council Districts: 7, 11, 12, and 13! Streetcars along North Avenue would open up many new opportunities for the residents and merchants around the major Penn-North intersection, for the students at Coppin State University, for the artistic and music community centered around Station North, for the many residents living around Greenmount and North and Broadway and North. After the NORTH AVENUE STREETCAR is going east and west, efforts could be made to cover the north-south routes on the west side with a FULTON AVENUE STREETCAR and on the east side with a BROADWAY STREETCAR. If these two additional routes were built, they would also pass through City Council Districts 9 and 1.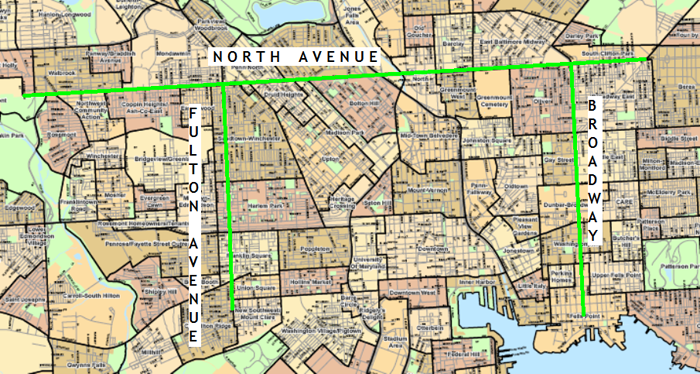 Streetcars have a great reputation in Portland, Oregon - and are also in use in Boston, MA; Little Rock, AR; New Orleans, LA; Memphis, TN; Philadelphia, PA; San Francisco, CA; Seattle, WA; Tampa, FL; Toronto, ONT; and many other cities and towns. A big new streetcar line plan was announced just this month for New York City from Brooklyn to Queens near the East River. For more information about all of this, see
the list of modern streetcars by the American Public Transportation Association (APTA).


As we enter the New Year of 2016, six priorities have emerged for shaping our Central Maryland Region's future in public transportation. Our Region includes Anne Arundel County, Baltimore City, Baltimore County, Carroll County, Harford County, Howard County, and the City of Annapolis. We must:
craft a solid Transportation Vision for the Region which spells out what we want to aim for over the next 25-50 years, AND WHICH INCLUDES THE REAL POSSIBILITY OF MODERN STREETCARS;
form a coalition of all existing transportation advocacy groups, with a special effort to include groups which represent neighborhood persons from east and west Baltimore City who depend on public transportation;
ensure that all transportation plans provide MORE EQUITY for the users of all in transportation services (especially in assuring personal safety, locating routes, offering services around the clock, and generally better serving the people of east and west Baltimore City who do not own automobiles and who depend on public transportation for getting around their city) - and that special efforts be made to improve the MTA bus system serving Baltimore City and the Baltimore Metropolitan Area in view of recent problems of reliability, ridership, and future planning publicized on March 17 and March 22, 2015 in the Baltimore Sun. To see the graphic produced by the Sun on ridership, press HERE;

insist that many more avenues be created for full engagement by the public in all aspects of the planning of transportation for our Region, especially the thousands of young people who will be living with our public transportation system for years to come;
press for a regional transportation planning framework and a metropolitan planning organization (MPO) which addresses all modes of transportation thoroughly, fairly, and openly - and provides proportional representation for the counties and Baltimore City based on their relative populations (instead of, as now, one vote for each of the seven local governments regardless of the great differences in the sizes of the populations they serve); and
develop a Regional Transportation Compact so that the planning and financing of regional transportation can eventually become a local responsibility instead of being done, as it currently is, by the State of Maryland .